Ice-Hockey-Training.com was developed by Kevin Neeld to help ice hockey players and coaches find high quality hockey training information, programs, and exercises.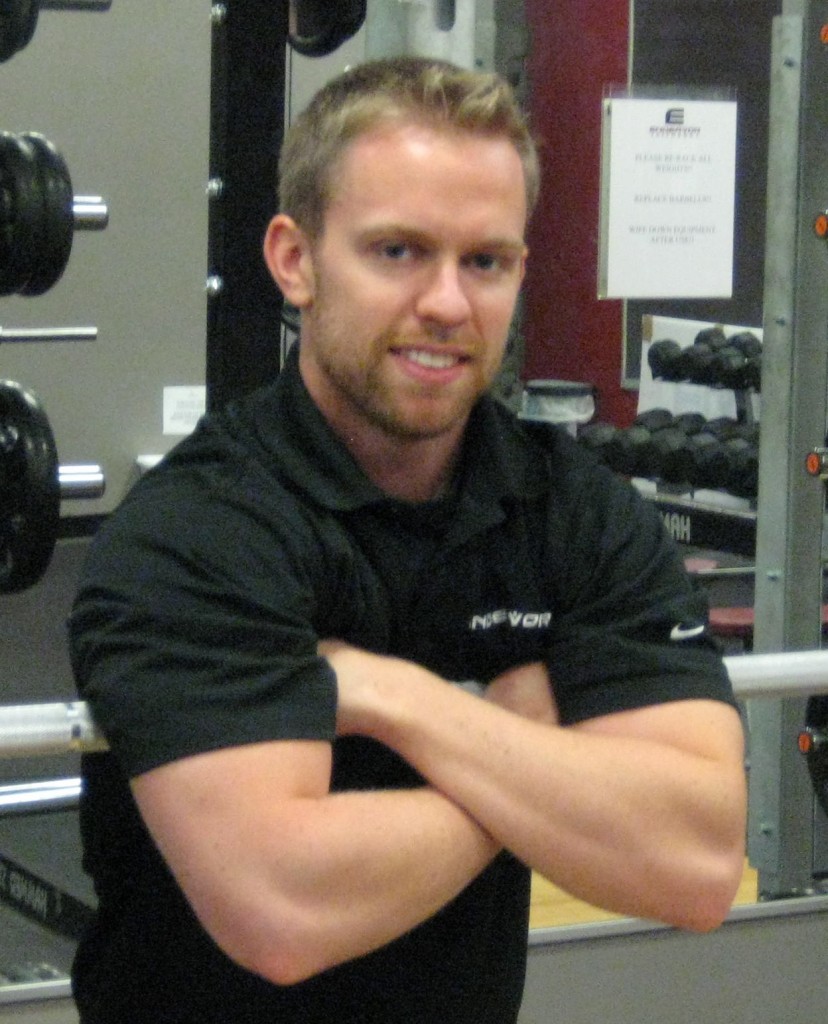 Kevin Neeld is the Director of Athletic Development for Endeavor Sports Performance. He is a Certified Strength and Conditioning Specialist (CSCS) holding a Master's degree in Kinesiology & Exercise Neuroscience (University of Massachusetts Amherst), a Bachelor's degree in Health Behavior Science & Fitness Management, and a minor in Strength and Conditioning (University of Delaware).
Kevin has an unwavering passion for helping hockey players fulfill their potential. He recognizes the huge impact that quality instruction, coaching, and training can have on a player's career. In order to help hockey players of all ages and levels succeed, Kevin has developed a number of high quality resources, including: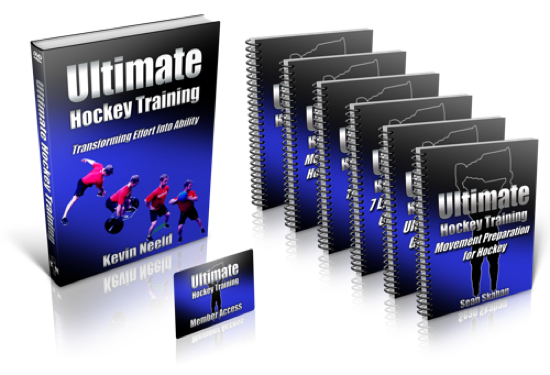 In
Ultimate Hockey Training
, Kevin details exactly how you should design and progress your off-ice training to continually improve on-ice performance. His system includes assessments, exercise progressions, and year-round training guidelines to help you realize your full potential. Specific injury prevention strategies are identified to not only make you a faster, stronger, and better conditioned player, but also more durable one.
Ultimate Hockey Training is the most complete hockey training system ever developed, a must-have resource for any player or coach.

Kevin has teamed up with Michael Boyle (Boston University), Sean Skahan (Anaheim Ducks), and Mike Potenza (San Jose Sharks) to put together what people are calling "The Greatest Collection of Hockey Strength and Conditioning Coaches on the Planet!" HockeyStrengthandConditioning.com is the first ever hockey training membership site LOADED with tons of programs, innovative exercise videos, hockey-specific articles on training, injury prevention, mental training, and nutrition and supplementation, and an open forum for players and coaches to communicate with experienced hockey experts. With contributions from over a dozen NHL and NCAA Division I Strength and Conditioning Coaches, this site is REVOLUTIONIZING hockey player development.

Ice Hockey Training is a great resources for hockey players and coaches to get access to quality information on what it takes to succeed. Topics include everything from developing a winning hockey program to dryland hockey training, to power skating drills.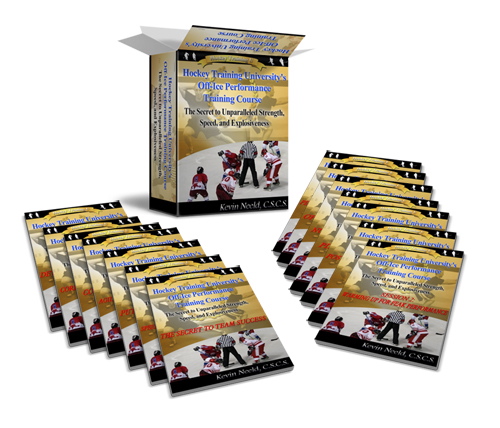 Kevin is the author of Hockey Training University's "Off-Ice Performance Training Course", the first product on the market geared toward helping hockey players and coaches of all age-levels and abilities design and implement effective off-ice training programs. This incredible resource includes three FREE bonuses (valued at over $250!): "Complete Hockey Nutrition and Supplementation", "The Secret to Team Success Guide", and 1-Week Pre-Season Training Guide.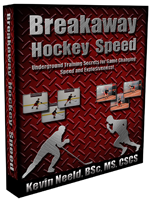 Breakaway Hockey Speed is a 25-page manual that outlines how to change your body position to maximize the power of your stride and reveals the truth about which stride pattern is better: short choppy strides vs long powerful strides (this will surprise you!). Breakaway Hockey Speed includes 6 Linear Speed Drills, 15 Transitional Speed Drills, and the information you need to integrate a comprehensive speed training program into your current training program. This manual is exactly what you need to become faster and more explosive on the ice! Speed is your 1st key to ice hockey success.
Kevin is sought after for his expertise in injury prevention and post-rehabilitation work. At Endeavor Sports Performance, Kevin has helped athletes get stronger while alleviating symptoms of a variety of injuries, including: shoulder labral tears, hip labral tears, shoulder impingement, hip impingement, sports hernias, groin pain, hip flexor strains, and low back pain.
After completing a successful college hockey career at the University of Delaware ('05-'06: MVP; '06-'07: Team Captain, Lifetime Achievement Award, 2nd Team All-American), Kevin served as the Assistant Coach of the University of Massachusetts-Amherst Women's Ice Hockey Team and assisted with the implementation of the strength and conditioning program for the UMass-Amherst Men's Ice Hockey Team. Kevin continues his work in ice hockey serving as a coach, educator, and program consultant in the sport.
An accomplished author, Kevin has had articles published at StrengthCoach.com, SBCoachesCollege.com, SportsRehabExpert.com, EliteFTS.com, T-Nation.com, BodyBuilding.com and AskMen.com. Additionally, he has served as an investigator and co-author on scholarly works published in Medicine and Science in Sports and Exercise, Research Quarterly for Exercise and Sport, Perceptual and Motor Skills, and The Journal of Physical Education, Recreation, and Dance.
Kevin possesses the unique ability to combine his backgrounds in research, academia, and athletics to create highly effective programs for athletes and clients of all backgrounds. Specializing in ice hockey training and corrective exercise, Kevin has helped guide athletes of all ages and abilities to optimal health and performance. Click here for more information on how he can help you achieve your health and performance goals.