Not sure if Ultimate Hockey Training and Hockey Training U's Off-Ice Performance Training Course are right for you? Check out what others have to say!
Ultimate Hockey Training Testimonials
"FINALLY I've found a book that summarizes everything I've learned over my last 35 years in the strength and conditioning industry. In Ultimate Hockey Training, author Kevin Neeld has provided a comprehensive blueprint of how a professional strength coach goes about designing a successful off-ice training program. Kevin lays it out in simple but thorough format and shows the reader all the basic factors that need to be taken into account when evaluating and customizing a long term plan for his athletes. The book covers a wide range of training aspects and progressions and outlines training at a very young age all the way up to the pro level.
Many of the topics discussed are very complicated but Kevin does a great job of explaining things in a simple way while still providing enough of the science involved to satisfy the more advanced reader.
Whether you're a parent who is looking for the correct way to help your child develop as an athlete or a strength coach that deals with professional hockey players, Ultimate Hockey Training will provide guidance to help you be successful. If only this book had been around when I first started!"
Rob McLean
Head Strength and Conditioning Coach
Colorado Avalanche (NHL)
"Off ice training time is highly valuable and should be approached systematically in order to maximize its benefits. Kevin's insight lays the ground work for establishing a system based on sound training practices. Ultimate Hockey Training is an excellent resource for any coach, player, or parent looking for proven training techniques and strategies."
Darryl Nelson, MS, CSCS, ATC
Strength and Conditioning Coach
USA Hockey National Team Development Program
"If you are looking for a laundry list of exercises that may or may not help your athletes become better hockey players, then keep on looking. In Ultimate Hockey Training, Kevin Neeld has written the most complete guide available to help strength coaches, personal trainers and even hockey players understand not only what they need to do, but why they need to do it! Kevin has painstakingly drawn back the curtain of hockey training, exposing the myths (and there are a lot of them) and showing you the science behind a properly designed hockey training program.
There has never been such a thorough and well thought out book on the topic and it will be extremely difficult for anyone to better this one. This one will remain close to my desk at the gym for years to come."
Maria Mountain, MSc, CSCS
Owner, Revolution Conditioning
www.HockeyTrainingPro.com
"Kevin's book Ultimate Hockey Training is an extremely rare comprehensive look at the present state of ice hockey training. Without question I highly recommend this for any strength and conditioning coach. Great insight for the beginning coach and super reminders for those of us that have been training for years."

Peter Friesen
Head Trainer/Strength and Conditioning Coach
Carolina Hurricanes
"I was privileged to receive an early release copy of Ultimate Hockey Training and can honestly say this is a great resource for all hockey athletes, coaches and strength and conditioning coaches that work with hockey athletes. Kevin has done an outstanding job outlining progressions and teaching you not only how to organize a training program but the why's behind it. This is a must have product!"
Brijesh Patel, MS CSCS
Head Strength and Conditioning Coach
Quinnipiac University (NCAA D1)
Off-Ice Performance Training Course Testimonials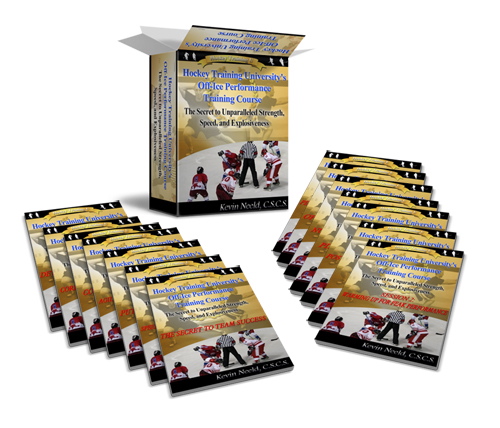 "Hockey Training University's Off-Ice Performance Training Course is the most complete training product I've read to date.  It is full of information to enable coaches and players, who do not have the fitness background and education to properly train to increase their abilities and success. Although the information in this manual is very intense, it is laid out well enough for anyone to understand.  I use the methods detailed in this course twice a week to increase the speed and strength of my players, and also before every game to properly warm up and become what I refer to as "game ready". I've seen a nice improvement in performance and durability this season. 11 games in (8-1-2) and zero injuries. All coaches and players will benefit from Kevin Neeld's teachings here and I look forward to many more coaching tools from him in the future."
Mark Cardillo
Head Coach, Delaware Ducks U-18AA
Head Coach, Tatnall High School Varsity
Hockey Director, The Pond Ice Arena, Newark, DE
"The HTU Off-Ice Performance Training Course effectively covers all areas of off-ice team training. Kevin has done an excellent job on condensing a lot of information into a product that is easy to understand and implement. I have used many of the presented warm-up exercises with my athletes with success for years and added some of the novel exercises to my current programs. This course will be an excellent resource for hockey coaches of all levels that are looking to improve the quality and effectiveness of their off-ice program."
Chris Boyko
Assistant Strength and Conditioning Coach
University of Massachusetts Amherst
"Kevin Neeld has pulled together a fantastic resource that provides excellent, up-to-date information in an understandable format. This would be a great investment for any hockey coach: I can't say enough great things about it."
Eric Cressey, MA, CSCS
President-Cressey Performance
www.CresseyPerformance.com
"The HTU course is one of the best off-ice training educational tools I've ever come across.  The progression of workouts ensures that players will continuously improve their strength, speed, and agility.  Through a variety of exercises, the monotony of dryland practices will be over, and players will look forward to coming together as a team to train. Coaches, players, and parents will see the results in attitude and performance. If you're looking for a more effective method to implement off-ice practices into your team's routine, this is it."
Joseph Azzarello
Assistant Coach, Men's Ice Hockey
University of Delaware
"Whether you are a hockey coach at the youth, junior, or collegiate level, you owe it to yourself to pick up a copy of Hockey Training U's Off-Ice Performance Training Course. Kevin has put together a resource that can teach a coach with NO training experience how to put together off-ice training programs for their athletes.  With everything from training progressions to nutritional discussions, it is truly a comprehensive one stop shop, with every thing you need to know to prepare your players to perform at their best.
The best part about this manual is that Kevin speaks on a level that anyone can comprehend.  High quality information has never been so easy to implement. Kevin has combined his years of hockey playing experience and "in the trenches" work training hockey players to create a product of unsurpassed quality. No hockey coach or player should be without it."
Brian St. Pierre, CSCS
Strength and Conditioning Coach and Nutritionist
www.BrianStPierreTraining.com
"I recently purchased Kevin Neeld's Off-Ice Training Course. To say it is a valuable resource for ice hockey coaches is an understatement.  The manual that Kevin has put together is excellent. It is a must have for all youth and high school ice hockey coaches. The manual breaks down every phase of training for an athlete with well-illustrated photos as well as a series of progressions for athletes. Having trained a lot of ice hockey players, I can say without hesitation that this program will guide you through a series of movements that will enable you to improve your level of play once the season starts.  Do yourself and your athletes a favor and pick up a copy of this program and I guarantee that you will not be disappointed."
Kevin Miller, CSCS